Stained glass windows
I make a wide range of flat panel stained glass designs for windows and window hangings. The photos below are linked to lists of available pieces and prices.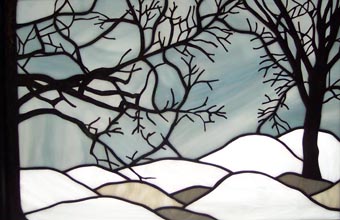 Trees
One of my signature styles is the use of the leading to depict tree trunks and branches. In some cases, the branches are depicted by solder that forms the junction between adjacent pieces of glass, but I also use overlay to create finer branches and for large tree trunks. Fine branch patterns are cut out of copper foil sheets, applied over the glass and covered with solder. Large tree trunks have a piece of glass underneath which is covered entirely with copper foil and then solder.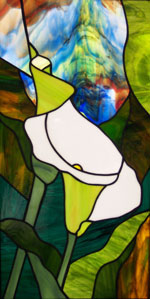 Flowers
I have been fascinated by flowers since a very early age. My mother used to tell a story about taking me to the zoo in a stroller. I was more interested in the flowers planted beside the cages than I was in the animals. Flowers and plants have always been central figures in my art. In addition, this interest has led me to a PhD in Botany and to extensive gardening projects at our home in Richmond.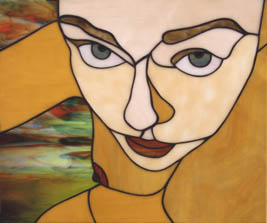 Human Figure
I have recently begun to explore the use of the human figure in stained glass. Since most of my work in the past has involved scenery and plants, this is a new challenge for me.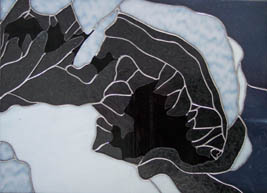 Fire and Ice
These pieces are explorations of how stained glass can be used to depict the elemental forces of nature. This ice piece was inspired by the forms and patterns seen in ice that forms over small rivers and puddles in very cold weather. The appearance of clear patterned and white opaque glass is naturally suited to depict this ice and the snow that sometimes covers part of the ice. It is mounted over black glass so that the piece can be viewed as if the ice is suspended over dark black water. I am also experimenting with using epoxy, rather than lead, to join pieces of glass together, leaving a bright line that can depict lightning. Finally, the texture of solder can be used to depict the forms in cooled lava.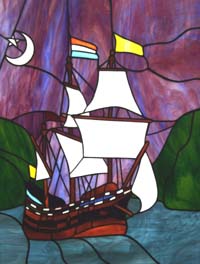 Custom Subjects
Here are some pieces that I made on commission where the buyer specified the subject. The ship is a replica of Henry Hudson's "Half Moon" that sails on the Hudson river. I have also created a sunset scene that depicts the view over a lake from the buyer's summer home.
copyright © 2009 Dan Sims